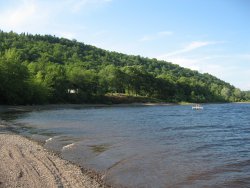 The name Pascobac is an Indian name meaning "side bay." It isn't hard to imagine our native friends paddling the Saint John River hunting and fishing from spring to fall, making their way in life. To them the river was like the highway is to us today, so when they named Belleisle Bay "Pascobac", it probably meant to them, what it means to a great many of us today - a less busy place to escape to - "a side bay." It isn't any wonder why the Y's Men wanted the land for a boy's camp.
The original land grant where Camp Pascobac is situated was granted on September 26, 1786 to Abraham Downey, part of Land Grant 80 and we know that a relative of his, Foster Downey, sold the land to Henry and Lizzie Willager. In the late 20's a canoeist, the first president of the Y's Men's Club, Walter Pearce, passed by this beautiful piece of land and thought it would make an ideal spot for a boy's camp. And thus started Camp Pascobac.

In May of 1928 Mr. & Mrs. Willager sold a parcel of land for a sum of $650.00 to the Y's Men of Saint John which included a half mile of shoreline and a house and a barn. The house, which was of no use to the Y's men, was burnt but the barn was kept and still stands today with many names displayed on its walls. In 1957 Mrs. Willager sold another 50 acres for $1500.00 and this money was raised by the Y's Men Christmas Tree Committee.

The growing of Scotch pines was another enterprise of the Y's Men Club in the Belleisle Bay area. From 1928 until 1930 the camp operated with only tents and only in the month of July. In 1930 the cookhouse was built (today it is known as the main lodge) and we understand the cookstove was delivered via the "Hampton", a sternwheeler that serviced the area. She came in sideways as far as she could and then planks were used to bring the cookstove to shore, pulled by a hitched team of horses owned by a farmer from nearby.

Over the next few years the cabins were built, each named after an Indian tribe. Many boys camped at Pascobac from 1928 until it was sold to the Province of New Brunswick in 1979. Many learned to canoe and swim and activities such as track meets, aquatic meets, baseball, volleyball, soccer and "British Bull Dog" were enjoyed and many boys arrived by steamship to the camp, one being the "Majestic". Two chapels were erected during the Y's Men's ownership and a large dinner gong which still remains today. In the early 70's interest in the boys camps dwindled and after renting the facilities out to private institutions for two years the Y's Men decided it was time to sell Pascobac.

In 1976 Canon E. Hart called upon the Provincial Government to purchase Camp Pascobac for the use of the general public. Thus started a campaign and "Save Camp Pascobac Site Committee" was formed. Organizations, businesses, church groups and private citizens lobbied the government to purchase the Camp and in July of 1977 Pascobac was purchased for a sum of $125,000.00.

In the summer of 1978 the Camp was leased to the Dr. Roberts School and in 1979 a Board of Directors was appointed for the newly incorporated non-profit organization of Pascobac Centre 1979 Inc. consisting of Chairman - Don MacKay, Vice-chair - Stan Law, Secretary - Ginny McLaughlan and Treasurer - John Wack. In June of 1980 the beach was officially opened with Supply and Services Minister Harold Fanjoy and Fundy Royal MP Bob Corbett taking part in the ceremonies.

The Provincial Government leased the facilities to the Directors of Camp Pascobac for a 5 year term, then a 10 year lease followed by another 10 year lease. During this time Pascobac has had the privileged of having Prime Minister Joe Clark and his wife Maureen McTeer and Premier Richard Hatfield in attendance in 1980. Pascobac has seen many family reunions, graduation reunions, church camps, business functions, Sunday school picnics and weddings take place over the past 25+ years as well as being able to employ many local students over the summer months.

Pascobac Centre 1979 Inc.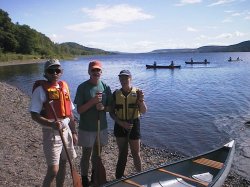 Over a quarter of a century ago, the Province of New Brunswick purchased Camp Pascobac, a 31.5 hectare facility on the beautiful Belleisle Bay, from the Y's Men's Club of Saint John, who, along with the YMCA, had operated the Camp for 50 years. At that time, an energetic group of King's County citizens from all walks of life came together and convinced the Government to lease the facility to their newly formed group, Pascobac Centre 1979 Inc., so that they could continue to operate it as a publicly accessible Camp for the citizens of New Brunswick and beyond to enjoy, via an affordable reservation process.

Since that time in 1979, many of the original Directors have retired, moved on, or passed away, but the facility continues to operate successfully because of this dedicated group of volunteers from the local communities. This group, Pascobac Centre 1979 Inc., a registered charitable not-for-profit organization, has continually ensured public access to the Camp through a reservation process, for numerous community groups over the past twenty-five years.

This dedicated organization wishes to continue offering their services to the public, as per the initial intent of the transfer to the government in 1979. It is our primary objective to maintain and improve upon this facility, as our actions have clearly demonstrated for the past twenty-five years, while keeping it affordable to community groups for such activities as weddings, reunions, family, school & church picnics, education, institutional uses, human development, recreational pursuits and other related activities and services.